Employee: Paying with Smartum Lunch benefit in Wolt
How do I use Smartum Lunch Saldo to pay my Wolt order?
At this moment you can pay your Wolt orders with Smartum Lunch Saldo on Wolt's webpage on www.wolt.com. In order to make an order, you need to log in to your Wolt account or sign up as a new user. When you have logged in, choose a restaurant of your liking. Choose the meal or meals you wish to order and proceed to order.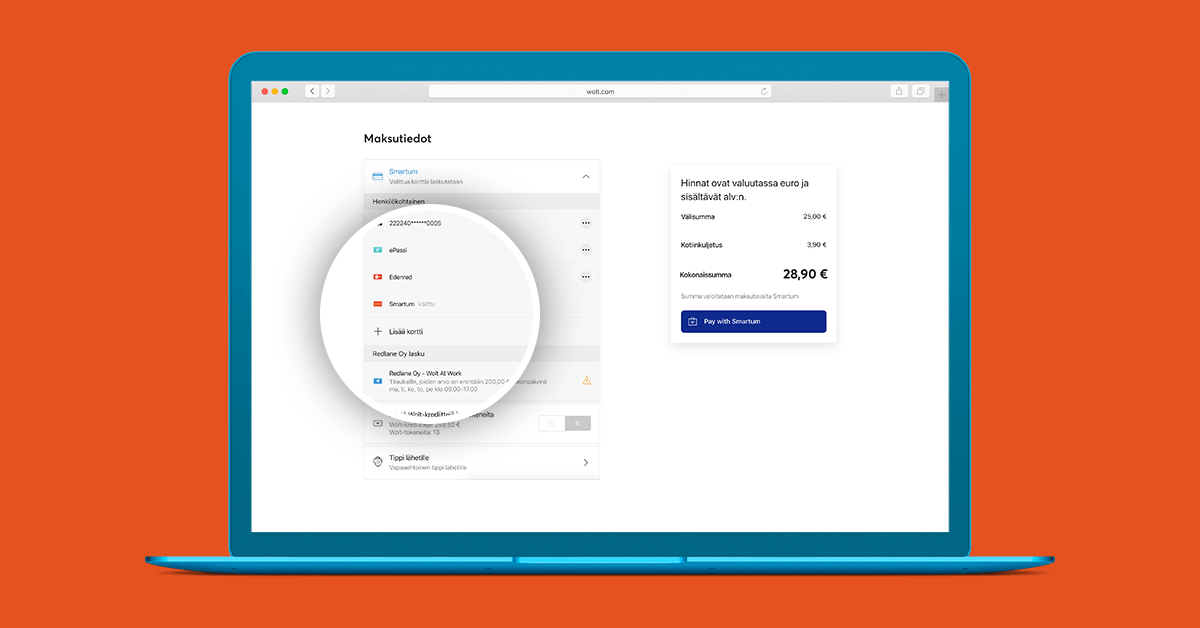 Paying your order with Smartum Lunch benefit is easy:
When you have added your order to your shopping cart, choose how you want your order to be delivered. Write your address if you want your order delivered.
Click your default payment method, choose "Smartum" as your new payment method, and click to order.
Log in as a Smartum Lunch benefit user with your Smartum username and password or your online banking user ID.
Pay the maximum amount of 10.70 euros with your Smartum Lunch Saldo, enter your bank or debit card details to pay the possible residue amount, and pay.
And you're good to go! Now you can sit back and wait for your order to arrive.
Can I use my lunch benefit to pay the delivery?
Yes! According to the new decision of the tax authority, lunch benefit can be used to pay the food delivery as well. The decision is valid until 31st of August, due to state of emergency. Therefore you can pay your lunch and the delivery with your Smartum Lunch benefit when ordering it from Wolt.
Can I pay with my lunch benefit in the Wolt app?
At the moment the Smartum payment method is only available in Wolt's web page. However, you can do your order with any device as long as you use the web browser to do the order.
 Can I pay my Wolt order with Smartum Lunch vouchers?
Unfortunately an order via Wolt can only be done with Smartum's electronic lunch benefit.
Can I pay the total amount of my order with my lunch benefit?
Verottajan päätöksen mukaan lounasetu on henkilökohtainen ja ostoksen summan tulee olla 6,80-10,70€ väliltä. Voit kuitenkin kätevästi yhdistää lounasetusi toiseen maksutapaan, jolloin voit maksaa tilauksestasi jäljelle jäävän summan pankki- tai luottokortillasi. According to the decision of the tax authority, lunch benefit is a personal benefit and your purchase amount should be between 6.80 and 10.70 euros. However, with your Wolt order you can easily pay the possible surplus amount easily with your credit or debit card.
 In which restaurants can I use my lunch benefit via Wolt? 
When ordering from Wolt, you can use your lunch benefit to enjoy any meal of any restaurant within the Wolt restaurant network.
---
---